Is it time to pump the breaks on pumpkin spice?
It's Fall, and that means it's the official start of pumpkin spiced…everything. At first it was just pumpkin spiced coffee at Dunkin and then Starbucks got on the trend, and now it's everywhere and in just about anything.
For the start of fall, Google Trends just did a big round-up of all the pumpkin spice products we've been googling.  And it turns out a lot of cat owners want pumpkin spice KITTY LITTER to be a thing.  It's the top pumpkin spice "scented" product people have been searching for.  It actually HAS been sold before at Walmart in Canada, but it looks like they might not have it in stock this year.
Google also looked at the top pumpkin spice food or drink each state is oddly obsessed with this year . . .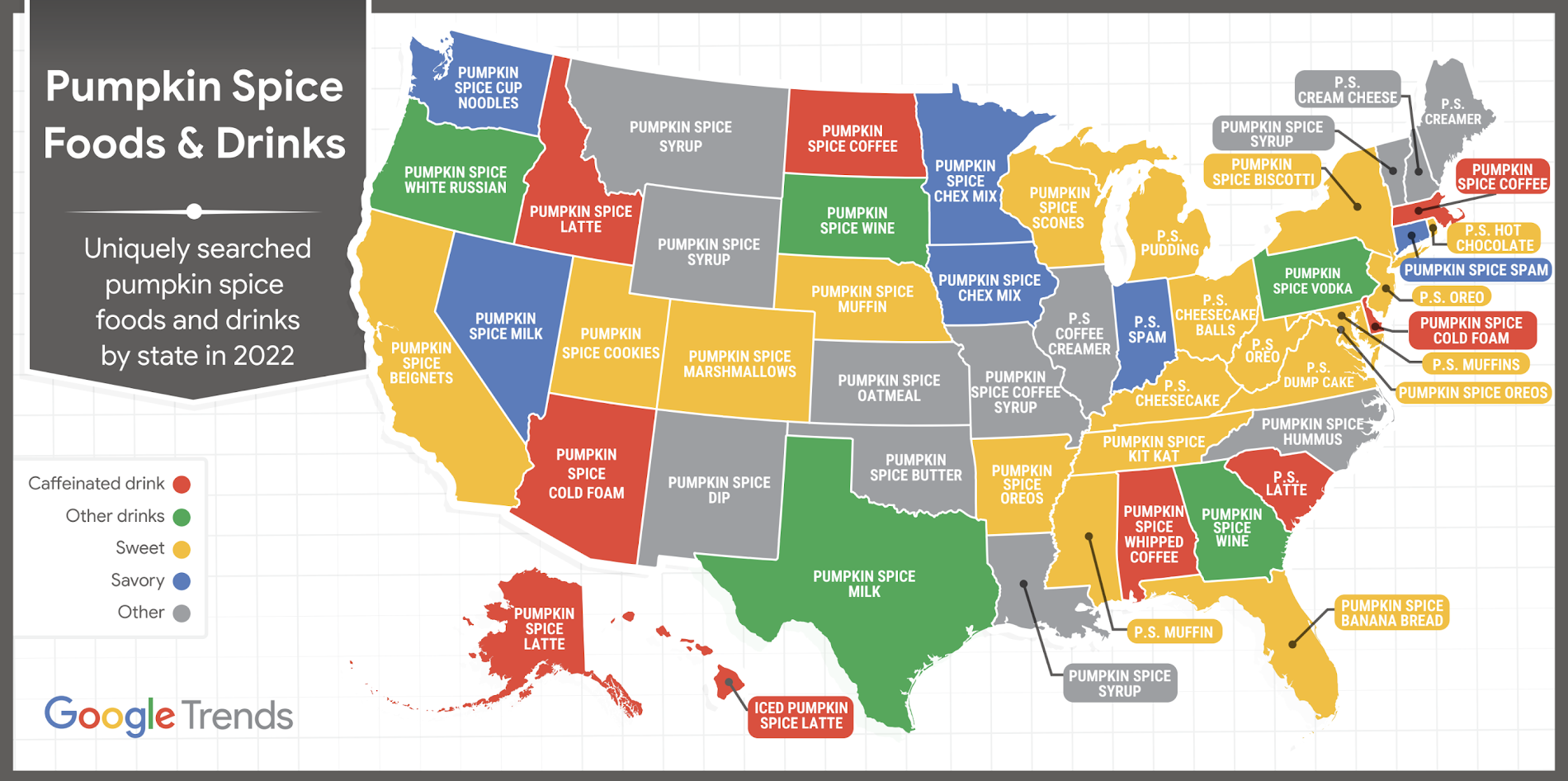 For Massachusetts Pumpkin Spice coffee is by far the number one Google search, New Hampshire loves Pumpkin Spiced cream cheese best, Rhode Island prefers Pumpkin Spiced hot chocolate, Maine likes pumpkin spice creamer and Vermont enjoys pumpkin spice syrup and wait till you see what Connecticut is into.
Here's my list of the Top Five Kookiest Pumpkin Spice Products!
America's Top Pumpkin Spice Treats
It's that time of year!
The leaves are turning. The color orange is starting to appear in stores. College students are getting their U-Haul stuck under a Storrow Drive bridge. So my duty as Jaybeau, Boston's future #1, 300 word blogger is to provide you with America's Top Pumpkin Spice Treats!
Pumpkin Spice Actually Does Not Contain Pumpkin
From Better Homes and Garden, I am shocked and confused that pumpkin spice does not contain actual pumpkin. Pumpkin spice flavor is cheating: pumpkin spice does not actually contain pumpkin. The blend of cinnamon, ginger, nutmeg, and allspice got its name because it is traditionally used to flavor pumpkin recipes. All these different spices—sometimes hailing from completely different parts of the world—remarkably came together to create the blend we love.
Where Does It Come From?
Bear with us, its history is fascinating. The origin of pumpkin spice dates back to the and the Dutch East India Company. Most spices in today's blend—cinnamon, ginger, nutmeg, mace, cloves—are native to Southeast Asian islands. Some could be found exclusively on a few island groups that are now part of Indonesia. Known as the Spice Islands, their location was a closely guarded secret. The Dutch took control of the Spice Islands in the early-17th century. Those islands became integral to the success of the Dutch East India Company and the spread of those spices. From Better Homes and Garden.
Pumpkin Pie
I am not a fan of all things pumpkin, EXCEPT on Thanksgiving I MUST have a piece of pumpkin pie, piled with home-made whipped cream. Out west near me in picturesque Sturbridge is the amazing Public House Bakery. The magic chefs there make the most amazing pumpkin pie. They are SO good, you have to call way in advance to order your holiday pies. The make amazing apple, blueberry and pumpkin pie! Also, that make magnificent birthday cakes. But, again, you must order ahead!
Ok, who's craving everything pumpkin? (Actually, turkey is beginning to sound good, too.) Enjoy America's Top Pumpkin Spice Treats!