We've waited TWO years! The wait is OVER! THOUSANDS of excited Aerosmith fans are counting the minutes to see their ROCK GODS come to Boston next week! On September 8, Aerosmith keeps their promise and performs their rescheduled show from September 18, 2020!  Steven Tyler couldn't be more excited to perform this 50th anniversary show, in his own backyard at Fenway!  Here we go with Aerosmith at Fenway: Everything You Need!
Last week, the band posted a potential set list: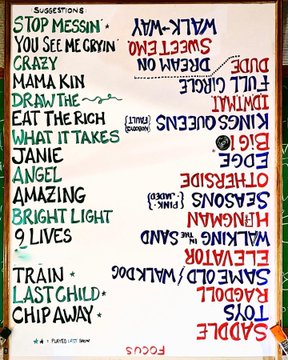 Set List
Another example from setlist.fm:
Park Theater-Park MGM, Las Vegas, 12-4-2019
Let The Music Do The Talkin
Rag Doll
Last Child
Pink
Walking The Dog (Rufus Thomas cover)
Sweet Emotion
Stop Messin Around (Fleetwood Mac cover)
Cryin
Livin' On The Edge
Lord Of The Thighs
What It Takes
Love In An Elevator
Toys In The Attic
Encore:
Dream On
Viva Las Vegas (Elvis Presley cover)
Walk This Way
Steven Tyler: A Real Guy
Steven got his start in New Hampshire, playing his first gigs with a young Joe Perry. I was honored to meet Steven one-on-one, back in 2011 when he came to my station. He gave me 20 minutes of private, one on one time. He shared his visit in New Hampshire with his Dad, his time as a judge on American Idol and more. I felt like I was talking to a long lost friend, not an international rock icon. Steven enjoyed our chat so much, his road manager kept pointing to his watch. Steven kept saying "give me a minute, give me a minute!" You could tell he really enjoyed real life chats with regular people. He's been proving that with his pop-in lunch visits around Boston, meeting fans.
Rehab
Page Six reports that Steve completed his rehab successfully:
Steven Tyler is reportedly out of rehab after a successful and extra-long stay.
The Aerosmith frontman, 74, checked out of the facility earlier this week, TMZ reported Friday, noting that he stuck around longer than the 30 days he was supposed to complete.
According to the outlet, the rocker wanted to make sure he felt confident with where he was in his recovery before being discharged.
Tyler is completely clean and sober, is at a healthy weight and his skin looks great, per TMZ. Great news!!
Below is a comprehensive list of Aerosmith at Fenway: everything you need!!! Win your tickets all weekend on 1057 WROR!
Sign me up for the 105.7 WROR email newsletter!
Make sure you're in the know on the latest music and entertainment news, plus exclusive prizes, trips, and more!
By clicking "Subscribe" I agree to the website's terms of Service and Privacy Policy. I understand I can unsubscribe at any time.